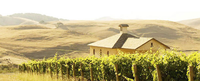 The Azaris have developed an estate vineyard and winery in the Petaluma Gap region of the Sonoma Coast. Proprietors Kamal and Parichehr Azari are Iranian-born. In 1988, while Kamal was a visiting scholar and researcher of Iranian Studies at UC Berkeley, they happened by chance upon what has become Azari Vineyards as they took a drive to Sonoma County from their home in Marin County. Twenty-five years later, the small parcel has been transformed into a vineyard and winery in the rolling, fog-swept hills.
The vineyard is planted to Pinot Noir and Shiraz, harkening back to Kamal's family roots in Shiraz, Iran. All Pinot Noir offered is estate grown.
Tasting by appointment on weekends at 1399 SpringHill Road in Petaluma (707-347-9846).