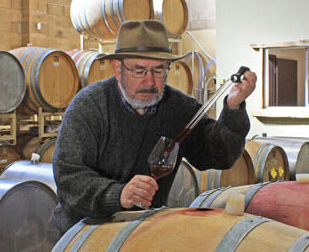 A producer of small lots of single-vineyard Pinot Noir, Chardonnay, Merlot and other varieties from select Santa Cruz Mountains vineyards and the Chalone appellation. Formerly Hillcrest Terrace Winery.
Joe Miller has taught university courses on enology and wine appreciation for over 30 years and has been making wine since the 1970s. He has been a tenured Professor of Astronomy and Astrophysics at UC Santa Cruz.
Pinot Noir offerings are sourced from Brosseau Vineyard (Chalone) and small vineyards in the Santa Cruz Mountains.
Visitors are welcome at the winery located on the west side of Santa Cruz at 429 Ingalls St., Friday through Sunday and by appointment. Joe's son, Sam, is the associate winemaker.