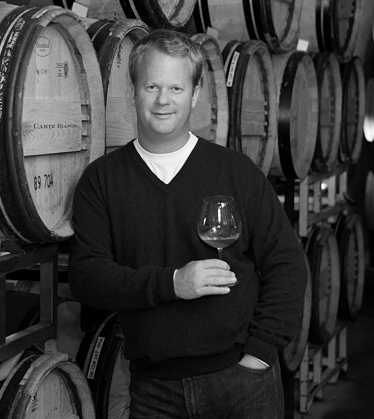 Proprietor Nicholas Allen's family has been in the wine business for nearly a century since his great grandfather, Clarence Dillon, acquired Chateau Haut-Brion in 1935 and his family company, Domaine Clarence Dillon, subsequently purchased Chateau La Mission Haut-Brion in 1983. His early exposure to wine led him to found his own boutique label in Napa Valley. He came to California to work with a clean slate to forge unique, world-class wine in Napa Valley and this led to the name Carte Blanche.
The winemaker is veteran Luc Morlet, how had the position of Technical Director for Pierre Morlet & Fils Brand, was the winemaker for Chateau Dauzac in Bordeaux, and Director of Enology and Viticulture for Newton in Napa Valley. His head winemaking duties at Peter Michael Winery were passed to his brother Nick, but he remains head wine consultant. He went on to make wine at Staglin Family Vineyards and in 2006, along with his wife Jodie, founded Morlet Family Vineyards.
The lineup includes Cabernet Sauvignon, Proprietary Red, Pinot Noir, Syrah, a white Rhone blend, Proprietary White and Chardonnay. The small production Pinot Noir is sourced from Nobles Ranch Vineyard in the Sonoma Coast AVA.