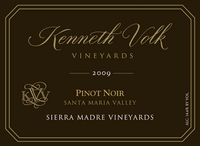 Kenneth Volk has been a long-time proponent of Pinot Noir sourced from the Santa Maria Valley. He started making wine at home in 1977. His first wine was a Gamay Beaujolais clone of Pinot Noir, done in a trash can. He punched it down with a Louisville Slugger wooden baseball bat. As a fruit science major at California Polytechnic State University San Luis Obispo he became interested in winemaking He followed up his early interest with multiple training classes in enology from University California Davis. Working with Dick Graff at Edna Valley for the crush in 1980, he learned to be meticulous. He started Wild Horse Vineyards in 1981, eventually planting 33 acres in Templeton in San Luis Obispo County. He built his winery in 1983 and that same year crafted a Pinot Noir from Sierra Madre Vineyard in Santa Maria Valley that brought early notoriety and success to Wild Horse. He produced a wide range of other varietals and eventually reached an annual production of 150,000 cases. Some of his most memorable Pinot Noirs were released under the Cheval Sauvage label.
In 2003, Volk sold Wild Horse Winery for $48 million to Peak Wines International and the winery was subsequently sold to Constellation Brands. Volk purchased the Byron Winery building on Tepusquet Road in Santa Maria (owned by Jackson Family Estates; Byron moved to another facility) in 2004. He named the winery Kenneth Volk Vineyards and released his first Pinot Noir in 2006. Volk spent $2 million for the property and invested another $2million in renovating the building and installing new winemaking equipment.
He produces a Santa Maria Valley appellation Pinot Noir sourced from the Sierra Madre Vineyard that Bill Hampton manages and Volk leases. He also sources Pinot Noir from Bien Nacido Vineyard, Garey Vineyard and Solomon Hills Vineyard, all in the Santa Maria Valley. Along with the Sierra Madre Vineyard Pinot Noir, he produces a Santa Maria Cuvee Pinot Noir ($24) and a Garey Vineyard Pinot Noir ($48) vineyard designate.
A second label, Aqua Pumpkin Pinot Noir, is blended from Volk's vineyard sources, is intended for early consumption, and is value-priced (about $16).
Kenneth Volk has mentored many winemakers including Neil Collins of Tablas Creek, Terry Culton of Adelaida Cellars, Jon Priest of Etude, Larry Gomez of Lockwood Vineyards, Scott Welcher of Opolo Vineyards, and Karl Wicka of Turley Wine Cellars and The Missing Leg. He is an active supporter of the viticulture, enology and wine marketing programs being developed at Cal Poly San Luis Obispo.
Volk has akeen interest in alternative or "heirloom" grape cultivars such as Malvasia and Cabernet Pferrer. He describes himself as an "innovating traditionalist" who likes to create multifaceted wines.
Kenneth Volk Vineyards is located at 5239 Tepusquet Road, Santa Maria. The tasting room is open from 10:30-4:30 Friday through Sunday. The phone is 805-938-7896. The wines are sold on the website. Volk produces a number of other varietals, including a superb Chardonnay. Production is around 17,000 cases.