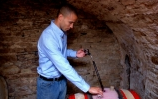 Ray Walker was originally in the finance industry doing real estate and mortgages prior to becoming a licensed stock broker and financial advisor with Merrill Lynch. All the while, he was trying to find a way to straddle in wine and a career in finance.
Jamie Kutch of Kutch Wines got Ray into drinking older Pinot Noir. Although his first love was Burgundy, sparks went off after having a 1965 Louis Martini Mountain Pinot Noir. After that, there was really no way I could keep Pinot Noir off my mind. He took some viticulture classes at Napa College while living in Fairfield.
After serious thought, and begging his pregnant wife and taking a hard look at what he really wanted to do, he left Merrill Lynch to pursue winemaking. When he left his career, he no job in winemaking waiting for him. He moved to Sonoma County and was able to work with Ed Kurtzman. The work was physically demanding, but he was in love with wine.
After one harvest, he made a decision to move on his dream of making his own wine. Although he loved California Pinot Noir, his first love was Burgundy. He studied French culture, language, history, viticulture and vinification methods. He registered and established a winery in France and made contacts to acquire grapes. His success was a combination of chance encounters, blind luck, steadfast determination and a great respect for tradition. His tiny garage-based winery was founded in Nuits Saint Georges.
Ray has secured an impressive number of grape contracts in top Premier Cru vineyards as well as the Grand Cru vineyards of Charmes-Chambertain, Mazeroyes-Chambertain and Chambertain.