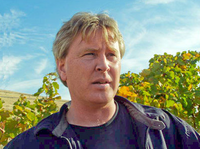 David O'Reilly is one of the few Irish-born winemakers in the United States. His family fled Belfast at the height of that city's friction between Catholic and Protestant factions in the late 1990s. The family originally settled in British Columbia before David headed south to California where he majored in philosophy.
During O'Reilly's travels, he visited Oregon's Willamette Valley, where he was smitten and he landed a job at Elk Cove Vineyards, where he befriended one of the seasonal assistant winemakers, Peter Rosback, who was also Irish. Together they left Elk Cove and Rosback founded Sineann (named after Ireland's Shannon River) and O'Reilly started Owen Roe (named after the famous Irish patriot who held off Cromwell's army before being poisoned with some evil breakfast cereal). Along with partner Gerald Owen who manages the vineyards, O'Reilly crafts powerful Pinot Noirs as well as Chardonnay, Riesling, and several red varieties. Some of the vineyard sources are in northern Oregon and Washington.
O'Reilly Pinot Noir and Owen Roe Sharecropper Pinot Noir are Willamette Valley blend that are inexpensive and wildly popular. Single vineyard Pinot Noirs come from Kalita Vineyard and Merriman Vineyard. A unique Pinot Noir is sourced from the Santa Maria Valley.
The winery and tasting room is located in Newberg near the airport at 2761 E. 9th Street. Various tasting options are offered. Special Cellar Table tastings require an appointment.
The winery produces 50,000 cases per year of all wines. The wines are sold on the website.