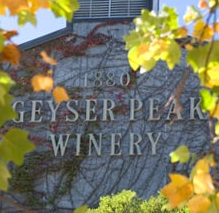 One of California's oldest wineries, GeyserPeak was founded in 1880 by Augustus Quitzow, one of Sonoma County's pioneer winemakers. The original winery was bonded as the twenty-ninth winery established in the state of California.
The original winery was built in Geyserville in the Alexander Valley in 1882. In 2014, the iconic winery moved its tasting room and winery operations to a newly renovated facility on Westside Road, just minutes outside of downtown Healdsburg at the confluence of Dry Creek Valley and Russian River Valley (formerly known as Alderbrook Winery). Limited-release and winery-exclusive wines will be produced at this facility.
The winemaker is Ondine Chattan who has been with the winery since 1999. She created two proprietary red blends for release in 2014, Tectonic and Devil's Inkstand, along with a Russian River Valley Pinot Noir, Pluto's Fury. The winery is best known for Sauvignon Blanc and Cabernet Sauvignon
The tasting room is open daily.