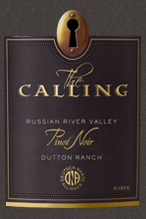 Sports announcer Jim Nantz and wine industry entrepreneur Peter Deutsch have collaborated along with winemaker Marco DiGiulio to establish a brand, The Calling, under the Vintage Wine Estates umbrella.
The wines offered include two Russian River Valley Chardonnays, two Russian River Valley Pinot Noirs, and two Alexander Valley red wines. When establishing the brand, Nantz early on visited Steve and Joe Dutton at Dutton Ranch and this helped get the brand off to a running start.
The Calling was a host committee sponsor for Super Bowl 50 and Nantz was one of those calling the 50th Super Bowl in history.