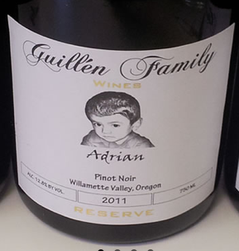 The winemaker for White Rose Estate, Jesus Guillén, launched his own label in 2013, initially offering a very small production of 80 cases of Pinot Noir with grapes sourced from Vista Hills Vineyard. By the 2015 vintage, Jesus had added additional vineyard sources and increased production to 1,000 cases of Pinot Noir.
The Guillén wines are not identical to White Rose Estate Wines. They are 100% whole cluster like many of the White Rose Pinot Noirs, but are fermented with native yeast and are more extracted and structured Pinot Noirs.
The wine is sold through a mailing list. The wines are poured for tasting at Winter's Hill Winery once a month as well as Valentine's Day, Memorial Day and Thanksgiving weekend (check website for dates).