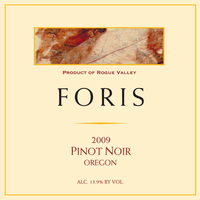 One of Oregon's oldest vineyard plantings. Ted and Meri Gerber bought hillside acreage in southern Oregon's remote Illinois Valley only 7 miles within the Oregon border in 1971 with the intention of growing wine grapes. They planted their first vines in 1974 with the goal of growing premium Pinot Noir and Alsatian varieties in a remote southwest corner of Oregon (now the Rogue Valley AVA). The vineyard is the southernmost vineyard in the Pacific Northwest.
For several years, they sold grapes to vintners in southern Oregon and in 1986, Ted and Meri Gerber established an estate, boutique winery under the Foris label. The entire family is now involved in the winery in some fashion. Foris now has 178 acres of estate vineyards.
The winemaker is Bryan Wilson has years of experience making wine for several California and Oregon properties. At least 15 different bottlings are offered including Alsatian whites, Pinot Noir and Cabernet Sauvignon.
The winery's tasting room in Cave Junction is open daily.