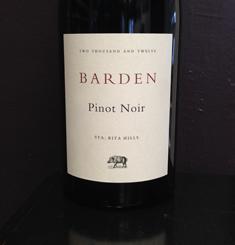 Owner and Director of Winemaking Doug Margerum is a graduate of University of California at Santa Barbara whose family bought the Wine Cask in Santa Barbara. In 1994, the Wine Cask became one of the few restaurants in the world to earn the Wine Spectator Grand Award. Margerum sold the Wine Cask in 2007 to devote all his energies to winemaking, but re-opened the Wine Cask with new partners.
Margerum Wine Company was founded in 2001 to offer limited quantities of wines made from vineyards around Santa Barbara. BARDEN is a collaboration between Margerum and winemaker Jason Barrette. The BARDEN trade name is Doug Margerum's middle name, and its English meaning is "Lives near the boar's den." Appropriately, the label has been adorned with the image of a wild boar that is pervasive in Santa Barbara area vineyards.
The wines are available directly from the website and at the winery's tasting room in downtown Santa Barbara at 813 Anacapa Street. Wines are also produced for Happy Canyon Vineyards and Cent'Anni at a shared facility.