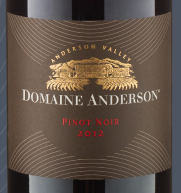 This new winery debuted in 2014 at the Anderson Valley Pinot Noir Festival. Located in Philo adjacent Balo Vineyards and across the street from Goldeneye, Domaine Anderson was founded by the Rouzaud family of Louis Roederer and their American team. The winery is dedicated to still Pinot Noir and Chardonnay production.
The winery is surrounded by the 17-acre Dach Vineyard planted to Pinot Noir. Production is complimented by grapes from 35 acres of vineyards located throughout Anderson Valley. The head winemaker is Jerry Murray and the consulting winemaker is Jeremy Seysses of Domaine Dujac. Murray has extensive experience with Pinot Noir, having made wine for eight wineries spanning three continents.
The inaugural releases in 2012 include two Estate Pinot Noir and Chardonnay wines that are blends from several vineyards and two single vineyard Pinot Noir (Dach Vineyard) and Chardonnay (Walraven Vineyard) wines that are sourced from specific blocks. Eventual production will be about 1,800 cases of Chardonnay and 3,000 cases of Pinot Noir.
The winery will not be open to the public.