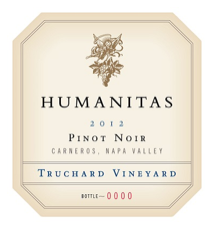 Owner Judd Wallenbrock's winery is located in his home in Napa. The label is inspired by humanitarianism with Humanitas the Latin word for philanthropy. All profits are donated to charity including Habitat for Humanity, America's Second Harvest and Reading is Fundamental. Wallenbrock is a 22-year veteran of the wine industry who is the head of sales and marketing at DeLoach Vineyards.
The lineup of wines includes a Chardonnay, Cabernet Sauvignon and Pinot Noir, a total of 2,500 cases. The Pinot Noirs are sourced from Monterey County, Russian River Valley, Rio Vista Vineyard in Sta. Rita Hills, and Truchard Vineyard in Napa Carneros, and the Chardonnays from Sonoma County and Edna Valley. The wines are sold on the website.
Beginning in 2014, tastings are available by appointment (707-253-1405) at the Humanitas Wines Tasting Annex in the Crusher Wine District in Napa Valley.