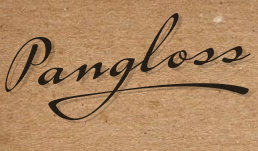 Limited release Bordeaux varietals, Zinfandel and Pinot Noir from Anderson Valley. This is the sister label to Repris which focuses on estate grown wines from its home at Moon Mountain Vineyard. Pangloss is a reference to the fictional character Dr. Pangloss in Voltaire's satire Candide (1759). The character has become synonymous with the idea of optimistic thinking.
Pangloss and Repris wines are made by noted winemaker Erich Bradley at the winery on Moon Mountain. Pangloss wines are relatively inexpensive ($25-$29).
The wines may be tasted at a historic building in Glen Ellen (35 East Napa Street).