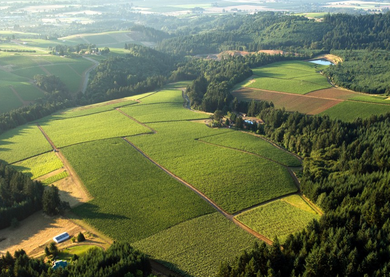 The children (Page Knudsen Cowles and two of her three brothers) of Cal Knudsen are carrying on his tradition with the creation of Knudsen Vineyards in 2013, focusing on Pinot Noir from grapes their father planted. Pioneering winegrower Cal Knudsen first planted Knudsen Vineyards in the early 1970s, making this one of Oregon's landmark vineyards. The vineyard is located just north of Stoller Vineyard in the Dundee Hills and is a mix of old vine blocks planted in the 1970s and 1980s, and new high-density blocks planted with Dijon clones in the 1990s. The vineyard also has smaller plantings of Chardonnay and Pinot Meunier.
Knudsen partnered with Dick Erath to create Knudsen-Erath where Knudsen grew the grapes and Erath made the wine. Their partnership lasted until 1987 and they remained lifelong friends. At that time, Argyle Winery was beginning and Knudsen supplied the grapes for the new winery. In 1990, he sold his holdings in Earth Winery, invested them in Argyle and became its chairman, a post he held until retiring in 2007.
The first wine, all of 100 cases, was an estate Pinot Noir from the 2012 vintage. An inaugural Chardonnay was released from the 2013 vintage. They were made by Rollin Soles of ROCO (and previously the winemaker at Argyle) and current winemaker Nate Klosterman. The wine is sold through a mailing list, select retailers, and the website.