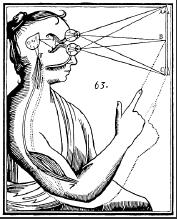 This winery is a partnership between winemakers Dan Green and Greg Nelson. Dan Green studied enology at Fresno State and worked harvests with Wes Hagen and Ed Kurtzman, while Greg Nelson was a research scientist previously.
They aim to make wines with character and texture that will age. They source grapes from cool weather sites and old vines, then use traditional winemaking techniques with minimum input. Vineyard sources include Clos Pepe Vineyard and Fiddlestix Vineyard in the Sta. Rita Hills AVA, as well as Bacigalupi Vineyards in the Russian River Valley AVA and Black Knight Vineyards in the Petaluma Gap region of the Sonoma Coast AVA.
The name arose from late night conversations comparing how grapevines and animals respond to seasonal changes. The Conarium is a part of the brain, and it keeps the mind and the body in tune with the seasons. Furthermore, the Conarium is the seat of the soul according to Descartes, the third eye of the mystics, and the center for enlightenment. Wine is associated with all of these ideas, and the Conarium represents these concepts within a unifying principle of balance.
The wines are sold on the website.