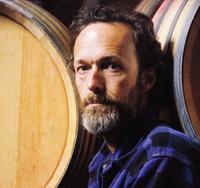 For nearly 20 years, Fred Scherrer has been vinifying Pinot Noir from the Russian River Valley and Sonoma Coast. A University of California at Davis graduate, he was the winemaker at Dehlinger Winery for ten years before striking out on his own in 1998. His winemaking guidelines for Pinot Noir are: "Be patient. Let the fruit speak. Listen. Touch lightly. Watch closely. Listen." This formula has worked well for him and his wines are sold to an enthusiastic mailing list.
Fred is not big on publicity or marketing. His fans have been trying to talk him into updating his label to something more hip and flashy. If you meet Fred, you will understand his passion for winemaking supersedes any need for notoriety. He finally succumbed to the pressure and had a new modern label created for the 2005 vintage. The old label emphasized the varietal within, the new label puts Fred's name front and center. Be assured, Fred will not let it go to his head. His winery has no signage and is housed in an undistinguished metal building.
The wines, which include Chardonnay, Rose and Zinfandel, are sold primarily through a mailing list with limited retail sales. Tasting by appointment.