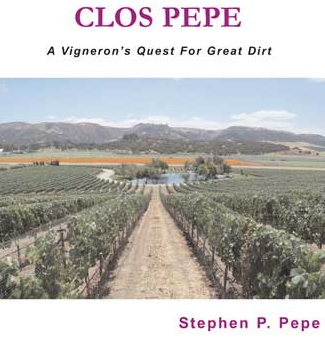 This 28-acre vineyard lies in the heart of the appellation on Hwy 246. Small quantities of Pinot Noir and Chardonnay are produced and grapes are sold to several producers. The owners are "vigneron" Stephen Pepe and his spouse Catherine.
Vineyard manager and winemaker Wes Hagen is a believer in Chablis-styled Chardonnay and Pinot Noir picked on the earlier side to fully display the vineyard's unique terroir. Noted winemaker Ken Brown has called grapes from his vineyard, "grapes on steroids," but some wines, notably from Roessler and A.P. Vin, seem to temper the muscular fruit.
Clos Pepe grapes are in high demand and fruit is allocated to several prominent California producers. Stephen keeps back enough fruit to make about 700 cases of Pinot Noir. Two bottlings are released: an Estate and a Vigneron's Select.
Visit the very informative website. The wines are sold primarily through a mailing list. I would encourage taking a tour and taste (by appointment). The estate also produces an award-wining olive oil.