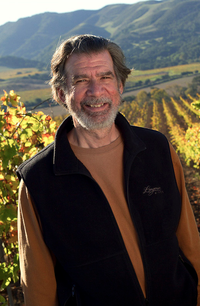 Rick Longoria is a veteran winemaker in Santa Barbara County who crafted his first vintage under the Longoria label in 1982. He appeared on the local scene in 1976 after spending two years at Buena Vista Winery where he developed a lifelong friendship with Andre Tchelistcheff.
He crafts 3,500 cases of several varietals from his winery in Lompoc under the Longoria label. His featured Pinot Noir is sourced from his 8-acre estate Fe Ciega Vineyard located in the south-west part of the appellation. He also sources grapes from Rancho Santa Rosa, Bien Nacido Vineyard, and Sanford & Benedict Vineyard.
I can remember way back in the early 80s when I first became really captivated by Pinot Noir and Longoria Pinot Noir was one of the labels I sought out as one of the few at the time to show the promise that has eventually come to pass.
Longoria says, "I believe I have retained the stylistic preference I developed 30 years ago, but since I am working with today's superior fruit, I am making the best wines I have ever made."
You can purchase wines online. Check out the "Blues Cuvee" lithographs for sale. 866-759-4637. A tasting room is open daily at 2935 Grand Ave, Los Olivos, and at the winery in Lompoc Friday-Sunday.