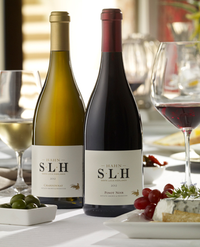 Hahn Estates is located on the Monterey Coast in the Santa Lucia Highlands and sources grapes from estate owned vineyards and non-winery owned vineyards in the Santa Lucia Highlands and Arroyo Seco appellations of Monterey County. Nicolaus Hahn is a Swiss businessman who became enamored with California wine, began planting vineyards in the Santa Lucia Highlands in the 1970s, and purchased the Smith & Hook Winery in 1980. In 1991 he created the Hahn Estate brand.
In German, Hahn means "rooster," and the rooster is prominently displayed on the Hahn Estate label. In 2000, the winery and vineyards underwent a large-scale renovation under the direction of president Bill Leigon. Hahn Family Wines now makes wines under Hahn Estate, Smith & Hook, Huntington Wine Cellars and Cycles Gladiator labels. HRM Rex Goliath was sold to Constellation Brands in 2004.
In 2009, new labels were introduced including Hahn SLH wines from the Santa Lucia Highlands appellation, Lucienne (a high-end Pinot Noir) and Bin 36 (includes Pinot Noir among several varieties). The SLH Pinot Noir and Chardonnay emphasize and promote the Santa Lucia Highlands where the wines are grown. The label clearly differentiates the Hahn Winery core tier from the Hahn SLH tier.
The winery has about 650 acres of vineyards in the Santa Lucia Highlands as well as 350 acres in Arroyo Seco and 160 acres in Paso Robles bringing the total to 1,200 acres. The winery did not have a single Pinot Noir vine in 2000, but is now a leading producer of Pinot Noir and supplier of Pinot Noir to many other wineries. Nicky Hahn led the multi year campaign to establish the Santa Lucia Highlands appellation which was actualized in 1991.
The current winemaker is Paul Clifton. Clifton learned winemaking under veteran Don Blackburn at both Bernardus Winery and Byington Winery. After obtaining a graduate degree focused on cool climate viticulture from Lincoln University in New Zealand, he started at Hahn Estates in late 2002 and worked himself up to head winemaker. Winemaking is traditional and aging is carried out in new and neutral French oak for 10 months.
The wines are sold on the website in addition to retail distribution. The tasting room at the winery is open daily (11:00 - 4:00 Monday-Friday and 11:00-5:00 on weekends). Hahn's Vineyard House adjacent the visitor center seats up to 28 in a beautiful dining room with view of the surrounding mountains and Monterey Bay. The venue hosts parties, chef's dinners or other epicurean events overseen by Director of Culinary Wine Sales and Chef Brian Overhauser.
Hahn Estates is an excellent value-play Pinot Noir to buy by case. The higher-end line of Pinot Noirs, Lucienne, are outstanding. Total production of all wines is about 400,000 cases annually, 29th largest production in North America.