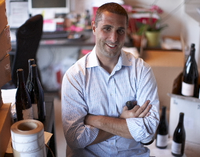 Jamie Kutch, is a Fordham graduate who was a NASDAQ trader with Merrill Lynch, commuting daily to Manhatten via the Long Island Railroad, and gave it all up to move to California and make Pinot Noir. Upon the urgings of Andrew Vingiello (A.P. Vin) and Brian Loring (Loring Wine Company), Jamie sent an e-mail to Michael Browne of Kosta Browne Winery, located in the Russian River Valley at that time, and detailed his dream to make Pinot Noir. Michael's advice was "Go for your dreams if it is at all possible, otherwise, you might regret it for the rest of your life. A man had once told me that 'the biggest regrets in life are not things that you did, but the things that you did not do.' I thought he was a very wise man." That was all Jamie needed to hear. Michael offered to be his mentor and assist him in making his initial Pinot Noir under his own label. Jamie quit his job, talked his girlfriend into moving west with him, and in a short time was in San Francisco. Jamie's unusual proposal to his girlfriend (PinotFile, Vol 5, Issue 9, "Love Among the Must") was only fitting, since wine has played an immortal role in the seducing, loving and marrying of women by men.
Jamie released his inaugural wines from the 2005 vintage: a Pinot Noir from the Russian River Valley and a Rosé from the Sonoma Coast. By 2009 he was still refining his style, looking to Burgundy for inspiration, and emphasizing earlier picking, some whole cluster in vineyard-designate bottlings, native fermentations, and aging in air-dried, tight grain Francois Frères oak barrels. His goal is Pinot Noir that is food friendly but age worthy. Although he denounces his first two vintages as veering from the direction he is now taking, the initial response to his wines was very favorable, and he quickly became one of the new young hounds in the Pinot race. His wines have been well-received by the wine press including James Laube of the Wine Spectator.
With the 2009 vintage, appellation Pinot Noirs from the Anderson Valley and Sonoma Coast and vineyard designated Pinot Noirs from Savoy, Falstaff and McDougall Ranch vineyards are offered.Two Pinot Noirs are produced:
Total production is 1,250 cases. The wines are only sold through a mailing list - sign up on the website.