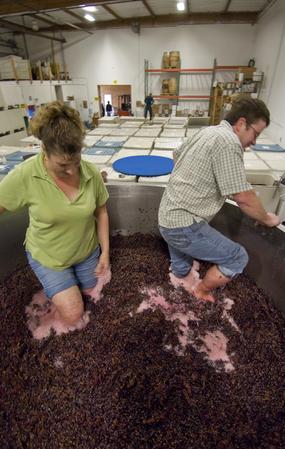 Adam and Dianna Lee travel the states of California and Oregon sourcing grapes for their appellation-designated and vineyard-designated Pinot Noirs (20 different bottlings in 2011). Personally, I think managing the vast number is a difficult task and the wines show some inconsistency as a result, but most wines are very good. Part of this is attributable to the fact that with so many vineyard sources, not every vineyard performs beautifully in every vintage. You won't find a more passionate winemaker than Lee and you have to respect his talents and time management.
Adam is known as Uncle Sid by his peers because he was one of the first young hounds in the Pinot race and one of the first to produce Pinot Noir is a full-bodied style. He and his wife began modestly with an initial $24,000 investment (their combined savings) in 1994 and quickly become renown. He was the model and or mentor for many other Pinot Noir specialists such as Brian Loring (Loring Wine Company), Andrew Vignello (A.P. Vin) and Michael Browne (Kosta Browne).
Adam met his spouse and partner in Siduri Wines, Dianna, while working at Nieman Marcus in Texas. He was a wine buyer and she was in the Epicure Department. They started dating and shared a passion for wine. They talked about moving to the Russian River Valley and getting involved in the wine business, though Adam initially wanted to be a wine writer rather than a winemaker. When he moved to the Russian River Valley, he even started a publication called "Vintages, Vines and Wines."
Lee crafts his wines out of an urban warehouse winery in northwest Santa Rosa (981 Airway Court, Suites E & F). Founded in 1994, production is now 7,500 cases. His wines have good retail distribution and are sold through a mailing list (an informative newsletter accompanies each group of releases). Tours and tasting daily by appointment (707-578-3882, vino@siduri.com).
Lee also crafts Syrah and other varietals under the Novy label. IN 2014, Adam became the winemaker at Hawks View Cellars in Sherwood, Oregon. He has sourced grapes from Hawks View Vineyard since the mid-1990s. Hawks View produces wines with grapes from California, Oregon and Washington.
In January 2015 it was announced that Kendall-Jackson Family Estates had acquired Siduri and Novy. Adam Lee will stay on as winemaker, the winery will function as is, but will have access to the many K-J vineyards.
In 2015, Siduri renovated their tasting room at the same location. Jackson Family Wines put in some money and brought in a designer to spiff things up. In addition, Adam Lee is able to source some new fruit sources including Bellflower (previously a Paul Hobbs source), Barbieri Vineyard, Dierberg Vineyard, and in Oregon, Zena's Crown and Gran Moraine vineuayrds.