Row Eleven Wine Co.
| | |
| --- | --- |
| Owner(s) | Richard de los Reyes |
| Web site | www.row11.com |
| | |
| Link to this site | |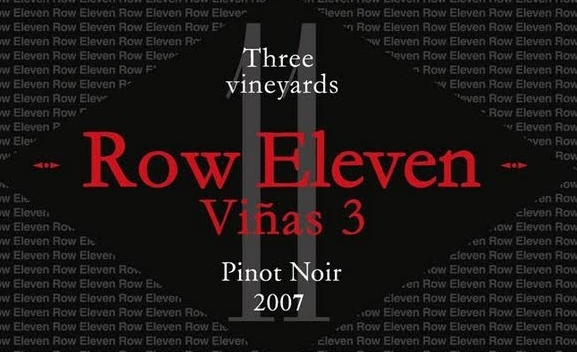 Row Eleven Wine Company was founded by Richard de los Reyes ("Ricardo D" to his colleagues) in 2004 and includes four brands: Row Eleven, Stratton Lummis, Civello and The Magician. Grapes are sourced from vineyards in the Santa Maria Valley, Russian River Valley, Carneros and Napa Valley.
The name comes from searching for the best rows from the best blocks from the best vineyards. Row Eleven is a unique Multi-Alternating Proprietor or MAP that utilizes several winery facilities, each specializing in a particular variety, in contrast to having one central facility to process grapes. The finest vineyards are then linked to these specialized wineries. Reyes crushes only the best rows, uses whole berries and ferments 10° cooler than most other winemakers. His style is fruit-forward.
Bottlings of Row Eleven Pinot Noir vary depending on source but include appellation (Santa Maria Valley and Russian River Valley), a California appellation bottling (Vinas 3), and vineyard-designated (Dutton-Sanchietti) offerings. Vineyard sources have included Riverbench, Bien Nacido, Sierra Madre, and Torres. The wines are distributed through retailers and restaurants. There is no tasting room or online availability through the website.
Articles About Row Eleven Wine Co.
Reviewed Wines

2007 Row Eleven Viñas 3 Three Vineyards California Pinot Noir

13.9% alc., $15.69. · A simple and straightforward moderately light wine with aromas of black cherries and black raspberries, sugar cone and oak. Nondescript in the mouth with simple cherry flavors. Soft tannins make for easy drinkability. Decent. Reviewed March 11, 2010 ARTICLE&nbsp»

2005 Row Eleven Wine Co Santa Maria Valley Pinot Noir

15.3% alc., 800 cases, $36. Founded by Richard de los Reyes ("Ricardo D" to his colleagues) several years ago, the name comes from searching for the best rows from the best blocks from the best vineyards. Row Eleven is a unique Multi-Alternating Proprietor or MAP that utilizes several winery facilities, each specializing in a particular variety, in contrast to having one central facility to process grapes. The finest vineyards are then linked to these specialized wineries. Reyes crushes only the best rows, uses whole berries and ferments 10° cooler than most other winemakers. His style is fruit-forward. The grapes for this wine are from the Bien Nacido Vineyard, Dijon clones 115, 667, 777 and Pommard. · Darker fruits, particularly black cherries run through this wine from start to finish. The demurely presented fruit has plenty of finesse and the alcohol, which is nicely integrated, creates a sweet note and a velvety texture. Reviewed December 16, 2007 ARTICLE&nbsp»

2003 Row Eleven Wine Company Santa Maria Valley Pinot Noir

14.3% alc., 1,200 cases, $30. Predominantly Pommard clone from the Bien Nacido and Solomon Hills vineyards in Santa Maria Valley. Aged in primarily 3 to 5-year-old Remond and Francois Fréres oak barrels. · The nose is thick with rich oak and pepper. There is a decent core of dark cherries, but again toasted oak takes center stage. The mouth feel is full and opulent. The finish is slightly astringent with vibrant acidity. The heavy oak influence is surprising given there was little new oak in the élevage. Match with grilled fish and meats. Reviewed April 6, 2006

2003 Row Eleven Wine Company Russian River Valley Pinot Noir

14.3% alc., 690 cases, $34. A mixture of Martini, Pommard and Dijon clones. Aged in 3 to 5-year-old mixed French oak barrels. · The nose offers plenty of cherries, baking spices and a touch of pepper. The flavors carry over the same theme, finishing with tangy acidity and enough spice to start a bakery. Balanced, elegant and perky. A really terrific Pinot Noir. Reviewed April 6, 2006

2003 Row Eleven Wine Company Solomon Hills Santa Maria Valley Pinot Noir

144 cases, $39. One of the five top wines at the 2006 Pinot Noir Shootout. · Burly nose with plenty of toasted oak. A Caliesque style with plenty of oak flavor and substantial oak tannins. The finish is long and a touch vegetal. Obviously this wine has fans but it is not for me. Reviewed April 6, 2006