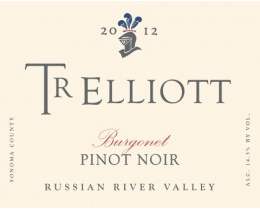 Theodore R Elliott is the man behind Elliott Family Cellars, a very small producer of Pinot Noir in Santa Rosa. He has many years experience as a grape grower and winemaker including a stint with Sonoma Cutrer. His wines are perfect examples of Russian River Valley Pinot Noir.
His two cuvées are named Queste Three Plumesand both won Gold Medals at the 2006 Sonoma County Harvest Fair. The two Pinot Noirs he produces are cuvees from two vineyards - Vine Hill and Hallberg (formerly Goldridge). The wine is composed of three clones - 115, Pommard 5, and 777. Aging is in 36% new oak.
The wines are available online on the website.