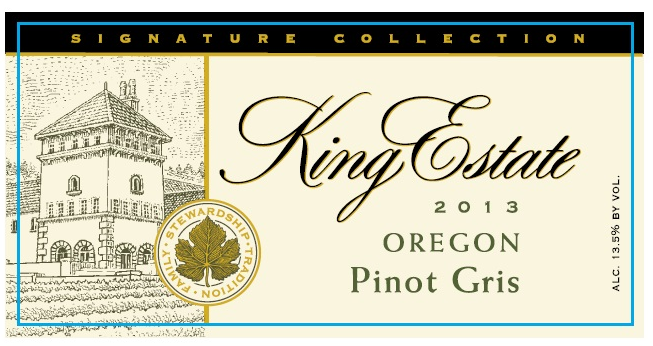 Located southwest of Eugene, Oregon, this beautiful thousand-acre estate has 250 acres of organic vineyards, a grapevine grafting and propagation facility, nursery, orchards, restaurant (The Restaurant and Wine Bar at King Estate), and a lush organic garden. The winery is styled as a grand European chateau.
King Estate is Oregon's largest producer, the largest organic producer (with 1,033 acres certified organic by Oregon Tilth), and is most known for its Pinot Gris which is among the best and a standard bearer from Oregon. Several Pinot Noir blends and single-vineyard Pinot Noirs are produced. 50% of production is estate grown.
The winery has been guided by Ed King III since the winery's founding in 1991. Ed King, Jr. was retired from a successful career in the manufacture of navigation and radio equipment for aircraft, when his son, Ed King III, started acquiring vineyard parcels in Oregon while an MBA student at the University of Oregon, realizing the growth of the Oregon wine industry. Together, they bought 600 acres of land at the southern end of the Willamette Valley near Eugene.
The King Estate produces Pinot Noir, Chardonnay and Pinot Gris from estate and purchased fruit with Pinot Gris being the most notable and a benchmark for Oregon. The wines are offered in three levels: Domaine, Signature and Vineyard Designate. The winery's second label, Acrobat, has been very successful. The North by Northwest label offers wines from Washington.
The wines from estate fruit bear an Oregon AVA, as the property is located just outside the southern boundaries of the Willamette Valley AVA. This troubled the winery so much that in 2014 the winery petitioned the TTB to include the estate in the AVA and this change is expected to occur.
Jeff Kandarian is the head of winemaking and Meliton Martinez is the viticulturist. King Estate is committed to organic and dry farming of its 470 acres.
The visitor center and restaurant are open daily at 80854 Territorial Rd, Eugene. The wines are sold on the website. Production is 240,000 cases annually with 50% of production estate grown. 800-884-4441.