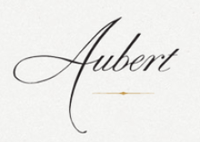 Owner/winemaker Mark Aubert grew up in Napa wine country where his parents owned a vineyard. After getting a degree from University of California at Fresno in 1985 he worked at Monticello. A chance meeting with winemaker Helen Turley launched his distinguished winemaking career which included a 12 year stint at Peter Michael where he followed Helen Turley and was appointed head winemaker at 28 years old. Aubert succeeded Turley again several years later at Colgin Cellars.
Aubert has been a winemaking consultant for several prestigious wineries including Sloan, Bryant and Futo. He launched his own brand in 1999 and his vineyard-designated Pinot Noirs and Chardonnays quickly received critical acclaim. Aubert crafts his wines from estate and leased vineyards in the Russian River Valley and Sonoma Coast in a full-blown hedonistic style. The first wines were released with the 2000 vintage. Ulises Valdez is Aubert's vineyard manager.
Until 2008, the two Pinot Noirs have been from the Reuling Vineyard and UV Vineyard, both located in the Sonoma Coast AVA. A new estate Chardonnay and Pinot Noir vineyard has been planted adjacent Reuling, 4 acres of Pinot Noir were planted at Ritchie Vineyard in 2008, and 9 acres of Pinot Noir have been planted at a new site high above the town of Occidental. In 2008, there were six different single vineyard Chardonnays and five Pinot Noir wines, and by 2014, eight different vineyards were in the portfolio (CIX, Eastside, Larry Hyde & Sons, Lauren, Ritchie, Sugar Shack, UV-SL and UV)
A new winery located at 333 Silverado Trail in Calistoga, CA was acquired in 2010 and the Auberts will move into the 8,000 square foot winery in January 2011. Visitors are to be welcomed to the winery in late fall 2011.
The wines are highly allocated, expensive, and only sold to the lucky few on the mailing list. There is a waiting list to join the mailing list. 707-963-4569.