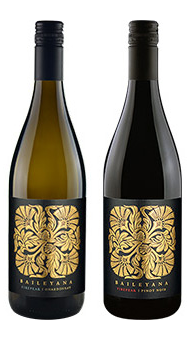 Seven words. One idea. This sums up the philosophy behind the wines. It's an idea that traces back to the founder, Catharine Niven, and her original vision. Jack and Catherine Niven had some of the first plantings of Pinot Noir in the Edna Valley in 1973 (Paragon Vineyard). Today, that vision continues under the watchful eyes of the second and third generations, along with and Burgundian born and educated winemaker, Christian Roguenant. He vinifies wines that are true to the vineyard and varietal in the old world tradition. Yet, he creates completely modern wines that go beyond the new world standard. Baileyana combines the best of both worlds, old and new.
Pinot Noirs include El Pico, Halcon Rojo, La Entrada, and S-Bar.
Roguenant oversees the brands Baileyana, Tangent (alternative white wines), Zocker (Grüner Veltliner and Riesling), Trenza (red blends that combine Paso Robles and Edna Valley fruit), Cadre (a high-end reserve Pinot Noir), and True Myth (a value brand for Edna Valley Chardonnay and Paso Robles Cabernet Sauvignon.