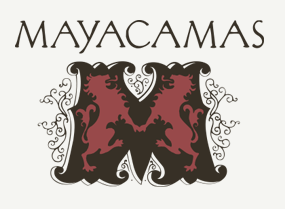 Mayacamas Vineyards is one of California's heritage wineries. Known for its long lived Chardonnays and Cabernets, Mayacamas was one of the original artisan wineries and developed quite a cult following beginning in the 1970s.
The Mayacamas Mountains that divide the Napa and Sonoma Valleys were originally the home of the Wappo Indians who were stone age hunters. The first white settlers came to the future site of Mayacamas Vineyards on Mt. Veeder in the 1860s and built a barn which still stands. Years later, a German immigrant and pickle merchant in San Francisco, John Henry Fisher, planted a vineyard and built a stone winery here The winery had multiple uses including a summer home for his family and a ranch to raise and care for the horses he used to deliver pickles to his clients in San Francisco. His wines were loaded into barrels, driven by horse drawn wagons 15 miles to the Napa River, and put onto ferry boats for the trip to San Francisco where the wine was bottled and sold.
In the early 1900s, the Fishers declared bankruptcy and the winery quickly fell into disrepair. In 1941, Jack and Mary Taylor purchased the land, restored and lived in the old stone winery, and renamed the estate, Mayacamas Vineyards.
Robert and Elinor Travers purchased the winery in 1968. They enlarged and improved the aging facilities, purchased adjacent land, and planted and replanted vineyards. Under their direction, the winery became famous for it's rich and tannic mountain-grown Cabernets. Eventually, the 465-acre estate had 55 acres of vineyards planted on mountain slopes ranging from 1,800 to 2,400 feet above sea level. Production is about 2,000 cases of Cabernet Sauvignon (blended with a little Merlot and Cabernet Franc), 2,000 cases of Chardonnay, 600 cases of Sauvignon Blanc, and a small amount of Pinot Noir.
The location yields small crops (less than a ton per acre) and small grapes resulting in wines of intense flavor and character. The winemaking style was intended to make wines that are not always flattering when young and benefit from aging, an old-fashioned concept in today's instant gratification world. The distinctive style was not for everyone, but Mayacamas developed a loyal following.
Charles and Ali Banks in partnership with retail entrepreneur Jay Schottenstein and his son, Joey, purchased the Mayacamas estate in 2013. The new owners are not making radical changes in the wines. They have cleaned the winery, removing all possible sources of TCA. Pinot Noir was pulled out in favor of Cabernet Franc. Much of the Cabernet Sauvignon, Merlot and Chardonnay was replanted (30 of 55 acres). Banks hired Andy Erickson as winemaker and former sommelier Jimmy Hayes as estate director.
The wines under the new ownership will be aged 5 years so the first releases will be in 2018.
Tours and tasting Mon-Fri by appointment. Sign up for winery newsletter. There is some retail distribution.