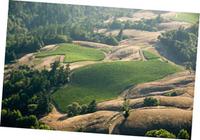 Ted Bennett and Deborah Cahn left the San Francisco Bay area and bought a 900-acre sheep ranch in Anderson Valley in 1973. The next year they began planting white varietals (they were Alsatian wine fanciers) and in 1975 planted their first 5 acres of Pinot Noir (UCD-4) on one rootstock on the valley floor in Philo. Additional acreage was planted on the hills of Philo. In 2009, they added 15 acres in Boonville. In 2012, they had 40 acres of estate Pinot Noir in production with 9 clones on 6 rootstocks divided into eight unique parcels ranging from 350 to 1500 feet in altitude. They source another 10 acres under contract with neighboring Valley Foothills Vineyard.
60% of what the winery crushes comes from estate vineyards. Varieties that do not do well in Anderson Valley, such as Zinfandel, Cabernet Sauvignon and Syrah, are sourced from growers with whom there is a long-standing relationship.
The next generation, Aaron and Sarah Cahn Bennett, now are actively involved in the winery. Winemaker Jim Klein has been at Navarro since 1992. The vineyard manager has been at the winery for more than 25 years.
Three Pinot Noirs are produced: a Mendocino blend, a Méthode á l'Ancienne Anderson Valley Pinot Noir (from Navarro's estate fruit and a small percentage of grapes from other growers in the Anderson Valley), and a Deep End Blend Anderson Valley Pinot Noir (a reserve made exclusively from higher elevated sites and the most age worthy).
The tasting room in Philo on Highway 128 is open daily and is one of the busiest and most loved in Mendocino County. Winery facility is capable of a total production of 43,000 cases annually. A very informative newsletter is sent to mailing list customers. 85% of wines are sold direct to consumers which helps make the wines surprisingly affordable.
Navarro is also a leading producer of Alsatian style wines and all Navarro wines are of the highest quality, yet the prices continue to be very reasonable. The tasting room sells cheeses from Pennyroyal Farm down the road in Boonville which is run by Sarah.