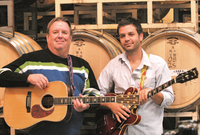 Chris Whitcraft has been making Pinot Noir for what seems like an eternity (1985). He developed an interest in wine working for several southern California liquor stores. In the 1990s, Whitcraft lived in a camper during harvest behind the Hitching Post II Restaurant and spent a number of evenings in the bar watching sports and drinking wine with Frank Ostini. He talked to Rex Pickett, the author of Sideways on a number of occasions. He had his own daily radio show called "The Wine Show" from 1978 to 1989.
Chris started with sparkling wine and Chardonnay, unhappy with early attempts at Pinot Noir because of the way grapes were grown. He started making Pinot Noir in earnest in 1990 and now the majority of his production is Pinot Noir.
Now based in Santa Barbara, he is a very small producer (2,000 cases) of Pinot Noir and occasionally other varietals. His major sources for Pinot Noir recently have been Bien Nacido Vineyard, Pence Ranch and Burt Williams' Morning Dew Ranch Vineyard in Anderson Valley. Chris's son, Drake, assists in the winemaking. The winery is an industrial building in downtown Santa Barbara.
In June, 2014, Chris passed away.
The wines are sold primarily through a mailing list. Tasting room at 36A S. Calle Cesar Chavez in Santa Barbara is open Friday through Monday and other days by appointment.