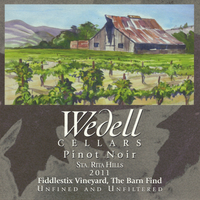 Maurice Wedell worked with French restaurateurs until the late 1980s, all the time developing a passion for Burgundian varietals. In 1988, Maurice and his wife Susan moved to the Central Coast of California. The Wedells were determined to plant their own vineyards and make wine. They enlisted the assistance of noted winemaker, John Alban, of Alban Vineyards fame, who guided them in planting a small experimental vineyard of Chardonnay. Their first vintage, in 1994, consisted of one barrel of wine, twenty-eight cases of Chardonnay, from their own grapes and grapes purchased from John Alban.
In early 1995, four acres of Chardonnay and one acre of Pinot Noir were densely planted on a steep hillside in the southern end of the Edna Valley. The vineyard began to produce Chardonnay in 1999 and Pinot Noir in 2000. The Hillside Vineyard designation came to represent the best of the estate fruit and a watercolor of this vineyard is proudly displayed on the label of all Wedell Cellars Hillside Vineyard wines.
Wedell Cellars Pinot Noirs and Chardonnay are for sale on the website. Magnums of the Ste. Rita Hills bottling are available as well as a vertical offerings of three vintages of Hillside Vineyard Pinot Noir and three vintages of Ste. Rita Hills Pinot Noir in magnum format. Wedell Wine Club members receive discounts on wines and shipping. 805-489-0596.
In 2004, the Wedells began to source fruit for a second Pinot Noir from Fiddlestix Vineyard and Ashley's Vineyard in the Ste. Rita Hills appellation. The Wedell Cellars Santa Rita Hills Pinot Noir was first released in 2004 and features a painting of a grape vine by well known artist Joanne Beaule Ruggles on the label.
In 2005, three acres of Chardonnay in the Hillside Vineyard were grafted over to Pinot Noir, increasing the estate Pinot Noir planting to four acres.
A companion value priced Pinot Noir label, Wavertree, was created in 2009. One Pinot Noir bottling is from Sta. Rita Hills and one is from Santa Barbara County. Sauvignon Blanc and Viognier are also offered.
The wines are sold online on the website and are distributed to fine restaurants.