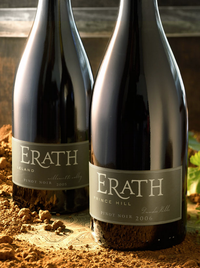 Dick Erath was one of the early pioneers of Oregon's wine industry. He came to Oregon in the late 1960s, driven by the belief that the future of Pinot Noir was in the Willamette Valley. Erath was an electronics engineer from California whose interest in Oregon was piqued after he obtained some grapes from Richard Somner's early plantings and made wine at home. Early on he partnered with Cal Knudsen to form Knudsen-Erath. They built a winery together in the Dundee Hills and released many acclaimed wines. In 1988 Erath bought out Knudsen and later brought on Rob Stuart as winemaker. The current winemaker, Gary Horner, joined the winery in 2002. Erath was sold to Ste. Michelle Wine Estates in 2006 with both Dick Erath and Gary Horner still at the winery.
The winery sources grapes primarily from vineyards in the Dundee Hills where the winery is located. Winemakers Dick Erath and Gary Horner craft both an Oregon blend (over 80,000 cases) and single-vineyard Pinot Noirs (Prince Hill, Leland, Fuqua, Juliard in most recent vintages). There is also an Estate Selection and top of the line La Nuit Magique.
The winemaker since 2003 is Gary Horner. Trained as a pharmacist, he decided to leave his pharmacy career for winemaking and moved his family to Oregon's Willamette Valley in 1988. He participated in UC Davis' wine education program, gained experience at numerous Northwest wineries, and had his own label, Destiny Vintners.
The winery's tasting room is open from 11-5 daily. Private tours and tastings are also available by appointment. 503-538-3318.