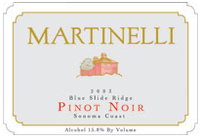 The Martinelli family are part of the historical fiber of the Russian River Valley. They have been growing grapes and apples in Sonoma since 1887, planting their first Pinot Noir in 1970. The family patriarch is Guiseppe Martinelli who made his way to California to find land and to start a winery at the age of 19. He planted the now famous Jackass Hill Vineyard which is the steepest non-terraced vineyard in Sonoma County.
When Guiseppe died, he left his spouse Luisa with four children. The youngest son, Leno, was determined to be a farmer and carry on the family tradition and after finishing school, farmed the Jackass Hill Vineyard. The name came from the fact that others said that only a jackass would farm a hill so steep. Leno continued to work the land and tend vines until 1949 at the age of 89 and turned the vineyard over to his son, Lee Sr.
Lee Sr. began planting vineyards in the Russian River Valley after taking over managment of his uncle Tony Bondi's estate. Two historic hop barns that grace the estate property were converted into a tasting room and winery and, the Martinellis began producing Pinot Noir under their own label in 1993, with Helen Turley as the winemaker. She introduced new viticultural and cellar practices to the Martinelli family and all new vineyards were planted with the consultation of John Welaufer and Helen Turley. Over time, older vineyards have been transitioned to high-density plantings.
Lee Martinelli, Sr. along with his two sons, Lee Jr. and George, oversees the management of the Martinelli family vineyards. The Martinellis farm 300 acres of vineyards in the Russian River Valley and Sonoma Coast appellations. 75 acres are planted to Pinot Noir.
Bryan Kvamme a University California Davis-trained winemaker was Turley's assistant at Martinelli Winery beginning in 1997, and became the winemaker beginning in 2008 (with Turley as consulting winemaker). Current production is 7,500 cases which includes nine Pinot Noirs (Bella Vigna, Blue Slide Ridge, Bondi Home Ranch, Martinelli Vineyard Reserve, Mooshine Ranch, Russian River Valley, Seven Mules Vineyard, Three Sisters Vineyard and Zio Tony Ranch). Other varieties include the well-known Jackass Vineyard Zinfandels, Syrah, Sauvignon Blanc, Muscat Alexandria and Gewüztraminer.
The Martinellis first planted Pinot Noir in the Fort Ross-Seaview AVA in 1995 (about the time they began producing wine under the family name). Lee Martinelli Jr.'s grandfather, George Charles, planted Chardonnay here in 1981.
The Pinot Noirs are bold, fruit-driven and highly structured wines. They are sold primarily through a mailing list with some wines available through the tasting room.
A tasting room, located in the Martinelli's historic Hop Barn is open daily from 10:00 to 5:00. 3360 River Road, Windsor. An adjacent hop barn has been converted into a winery. 707-525-0570. The wines are sold through a mailing list with some bottlings available at the tasting room.