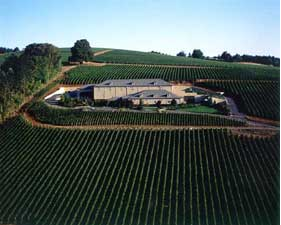 Established in 1993, Archery Summit has a state-of-the-art 100% gravity flow winery. Small temperature controlled fermentation tanks are used combined with an insistence on native yeast fermentation. The Pinot Noirs are aged for as long as 18 months.The winery's underground caves house over 550 French barrels.
Archery Summit has five estate vineyards and just over 115 acres. Moises Sotelo, a foreman who planted Archery Summit Estate in 1994, still hand tends the vines. The vineyards are planted primarily in prime Jory soil in the Red Hills of Dundee with Dijon clones 113, 114, 115, 667 and 77 and are site-selected and blended with existing mature rootstock. the plantings are dense, vertically trellised, and sustainably farmed.
All of the Pinot Noirs except the Premier Cuvée are vineyard designated and produced from estate vineyards: Archery Summit Estate, Red Hills Estate, Renegade Ridge Estate, Looney Vineyard (Ribbon Ridge AVA), and Arcus Estate. The estate vineyards provide the backbone for the winery's signature blend, Premier Cuvée.
The winemaker and Co-General Manager is Anna Matzinger and the Vineyard Manager and Co-General Manager is Leigh Bartholomew.
Tours and tastings are offered by appointment daily from 10:00 to 4:30. Call 800-732-8822 for reservations. The address is 18599 NE Archery Summit Road, Dayton, Oregon. The wines are sold primarily through an allocation list.