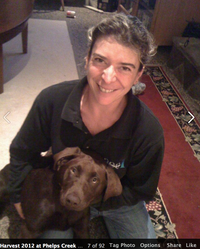 A specialist in Pinot Noir located in the Columbia Gorge AVA on the banks of the Hood River Valley. Robert Morus founded Phelps Creek Vineyards and Mt. Defiance Wine Company. The estate vineyards consist of 30 acres of Pinot Noir and Chardonnay with initial plantings dating to 1989.
Rich Cushman was the inaugural winemaker. A Hood River native, he had over 25 vintages in the Willamette Valley before returning to his home region. Alexandrine Roy, from Burgundy, was initially a contributing winemaker consultant, but will be responsible for all Phelps Creek wines beginning with those from the 2012 vintage. She will fly in four times a year to oversee the winemaking.
Alexandrine Roy is a fourth generation winemaker at Domaine Marc Roy in Gevrey-Chambertain. Her first wine for Morus was the Cuvée Alexandrine Pinot Noir, followed by Fleur de Roy Pinot Noir Rosé, and then Coeur de Roy, a Pinot Blanc from vines that are at least 20 years old.
The winery's tasting room is open daily from 11:00 to 5:00 at 1850 Country Club Rd. in Hood River, Oregon. To order wines, e-mail or phone 541-386-2607. Production is about 3,500 cases a year including three to five Pinot Noirs, a Pinot Gris and three Chardonnays. A Syrah from The Dalles is planned in the future.