Pillow Rd. Vineyard
| | |
| --- | --- |
| Owner(s) | Anne Stotesbery, Pat Stotesbery |
| Web site | www.pillowrd.com |
| | |
| Link to this site | |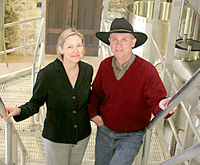 Pillow Rd. Vineyard consists of two vineyard blocks located in Sebastopol, Sonoma County, on the southern edge of the Russian River Valley. 20 acres of Pinot Noir are farmed by the Pat and Anne Stotesbery, the creators of Ladera Vineyards on Howell Mountain in the Napa Valley. The vineyard is planted to Pommard 4, 115, 777 clones and Swan and Calera selections.
The winemaker is Jade Barrett and consulting winemaker is Karen Culler.
The winery's Pinot Noir, about 1,000 cases, is sold online. The first release was the 2006 vintage.
Articles About Pillow Rd. Vineyard
Reviewed Wines

2011 Pillow Rd. Vineyard Russian River Valley Pinot Noir

13.4% alc., $50. Proprietors are Pat and Anne Stotesbery, the creators of Ladera Vineyards on Howell Mountain in Napa Valley. The winemaker is Jade Barrett and consulting winemaker is Karen Culler, both of whom have experience in working in notable Napa Valley wineries. · Moderately light reddish purple color in the glass. Aromas of cherries, straw and toasty oak lead to a light to mid weight core of bright cherry, cranberry and pomegranate flavors accented by savory dried herbs and spice. The fruit is backed by vibrant acidity and supple, dry tannins, and the soprano finish is flush with citrus-infused cherries. The wine displays a lack of ripeness reflective of this cool vintage. Score: 87. Reviewed March 29, 2014 ARTICLE&nbsp»

2007 Pillow Rd Vineyard Russian River Valley Pinot Noir

13.6% alc.. · A strange wine offering oak and barnyard stink on the nose and spoiled fruit among the flavors. Couldn't take another sip. An off bottle. Unsatisfactory. Reviewed April 8, 2010 ARTICLE&nbsp»

2006 Pillow Rd. Vineyard Russian River Valley Pinot Noir

14.1% alc., $47. Two vineyard plots located in Sebastopol on the southern edge of the Russian River Valley farmed by the Stotesbery family. 20 acres of Pinot Noir planted to multiple clones including Pommard 4, Dijon 115 and 777, and Swan and Calera selections. · Attractive aromas of cherries, spice and cola. Middle-weighted cherry flavors with a deft touch of oak which lingers on the finish. Admirable t n' a. Not exceptional but solid. Reviewed April 18, 2009 ARTICLE&nbsp»