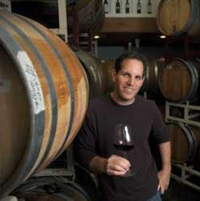 Winemaker Benjamin Silver produces small lot Pinot Noir from Santa Barbara County, featuring foot stomped punch downs and stem inclusion fermentations.
Benjamin's background would not suggest that he would become a winemaker. He hails from Amherst, Massachusetts, and has a BS degree in Animal Sciences and a BA degree in Italian from the University of Massachusetts. He caught the wine bug in 1983 at a summer job at Chicama Vineyards on Martha's Vineyard. He used his science background to land a harvest intern lab technician posiiton with winemaker Daniel Gehrs at Zaca Mesa Winery in Santa Barbara County. He became Gehr's winemaking assistant and when Gehrs left in 1998, he took over as head winemaker at Zaca Mesa. He left Zaca Mesa in 2000 to launch his own label, taking over the winemaking program and vineyard re-development for the owner of White Hawk Vineyard.
The lineup of Silver Wines varietals includes Pinot Noir, Cabernet Franc, Syrah, Nebbiolo and two proprietary blends, all sourced from vineyards in Santa Barbara County.
A tasting room is located at 724 Reddick Street in Santa Barbara, and is open Wednesday through Sunday.