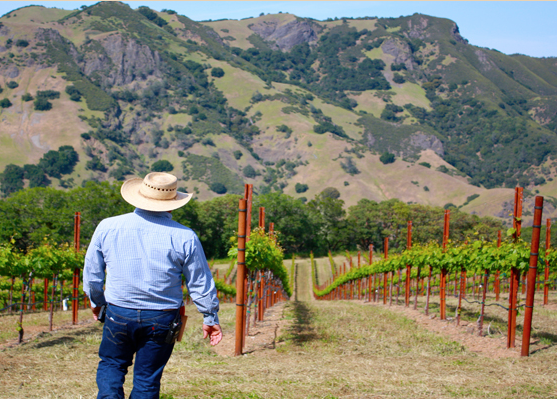 Ulises Valdez came to the United States from Michoacán, Mexico in 1985. He had not progressed past the third grade and did not speak English. Part of a family of 8 children, his father had died at age the age of 55 working the table grape harvest in Bakersfield, California, and the family lived with their mother in a one room adobe house. He worked at various jobs in Mexico until the age of 16, when he made it into California on his third try and ended up in Cloverdale in Northern Sonoma County.
He began working for Jack Florence, Jr., a grower, and achieved amnesty with the Immigration Reform and Control Act of 1986. That year, in exchange for a 50/50 partnership in a new company, Florence Vineyard Management, Valdez would work an entire season for free. He planted a 30-acre vineyard in Dry Creek Valley, working 18 hours a day.
Upon a return to Mexico, he married his childhood sweetheart, Adelina, and had four children. The two older daughters are already helping out at the winery.
In 2003, Valdez bought Florence out at a time they were farming 400 acres throughout Sonoma County. He has grown the company, Valdez & Sons Vineyard Management, to over 1,000 acres and started the Valdez Family Winery. He established his first Pinot Noir vineyard in the Russian River Valley in 2001 (Ulises Valdez or UV Vineyard), and a year later planted another Russian River Valley vineyard, Lancel Creek.
He started producing his own wine in 2004 under the Valdez Family label, a Zinfandel from Rockpile Road Vineyard. A Lancel Creek Pinot Noir debuted in 2005, crafted with he help of Mark Aubert. His success has come through a number of contacts, most notably Aubert who mentored him.
After working out of others' facilities, he set up a winery and tasting room in an industrial park in Cloverdale in 2010. In 2013, he moved his tasting room to Healdsburg. Mauricio Soto, formerly of Stryker Sonoma and Paradise Ridge, has become the full time winemaker, producing about 2,000 cases per year. It is expected that production will increase starting with the 2012 vintage to as much as 15,000 cases of Zinfandel, Pinot Noir and Chardonnay. Valdez now produces a single Pinot Noir using grapes from all his vineyards. A lower priced line of estate wines, possibly labeled Pobre Fino, will be offered in addition to vineyard-designated wines.
Of the 1,000 acres Valdez & Sons Vineyard Management farms, about 120 acres is owned or leased by Valdez. He employs a crew of 60 year-round vineyard workers and an additional 60 during summer through harvest.