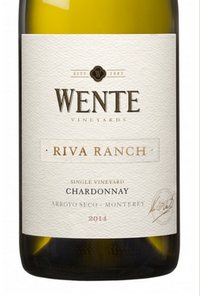 Wente Vineyards celebrated its 125th anniversary in 2008 and is the oldest, continuously-operated family-owned winery in the United States (although Concannon Vineyards in Livermore has the same claim). Based in Livermore, California, Wente Vineyards (Wente Family Estates) is owned and operated by the fourth and fifth generations of the Wente family and produces about a 675,000 cases of wine per year.
Carl H. Wente bought 47 acres in Livermore Valley in 1883, first harvesting grapes there the following year. 2014 marks the 130th vintage release. Wente produced the first varietally labeled California Cabernet Sauvignon in 1933 and Chardonnay from the 1936 vintage. Also in 1933, second generation winegrower Herman Wente played an integral part in the creation of California's Wine Institute. Third generation winegrower Karl L. Wente became a key advocate for California wine. Under his son Eric Wente's leadership in the 1980s, Wente Vineyards focused on exporting to countries unfamiliar with California wines.
Today, the fourth and fifth generation family members own and operate Wente Vineyards.To celebrate its 130th vintage release, the winery has redesigned and modernized its packaging.
Young Karl D. Wente, the fifth-generation winegrower in the family, launched a winery-within-a-winery, named the Small Lot Winery in 2002, with the intention of producing premium wines from the Wente's 3,000 acres of sustainably-farmed estate vineyards in the Livermore Valley and Arroyo Seco appellations. 31 different grape varieties are farmed. Nth Degree Wines (the name comes from the Wente's efforts to farm their vineyards to the Nth degree) are also under the Small Lot Winery umbrella. Karl earned two master's degrees in (horticulture) viticulture and in food science (enology) from University of California, Davis, and gained experience at both Peter Michael Winery in the Knight's Valley of Sonoma County and Brown Brothers in Victoria, Australia.
The Pinot Noir portfolio of Wente Vineyards includes Estate Grown Wines (Reliz Creek Vineyard and Riva Ranch Vineyard Pinot Noir), Small Lot Wines (Small Lot Pinot Noir) and Nth Degree Wines (Nth Degree Pinot Noir). The Nth Degree wines are highly allocated to wine club members and are distributed to a few restaurants and retailers in the United States.
As one of the first California wineries to adopt Chardonnay, Wente Vineyards can trace some of their original cuttings back to Meursault via Livermore's Charles Wetmore and others. Carl H. Wente collected the rest directly from Montpellier in 1912. At the end of Prohibition, Wente Vineyards and Paul Masson were the only wineries with existing commercial Chardonnay vineyards. Wente Vineyards continued managing their vines for stead improvement and became the source for clonal research and development conducted by UC Davis and Louis Martini Jr. in Carneros.
Riva Ranch was Arroyo Seco's first vineyard planting in 1963. Karl L. Wente discovered this rugged region when he was looking to supplement his Livermore plantings with a cool climate area that was suitable for Chardonnay. In 1963, Wente was driving with A.J. Winkler and Maynard Amerine, professors at University of California at Davis, when he saw the potential in the Arroyo Seco basin with its short days, cool nights and morning fog. Wente bought 350 acres from the Riva family and planted Riesling and two clones of Chardonnay: Clone 2A ("Old Wente Clone") and Clone 4 (UC Davis heat-treated Wente Clone), obtained virus-free from UC Davis's FPS nursery. Over the years, Wente Vineyards bought additional contiguous land and planted more Chardonnay clones. A designated "increase" block was the source of cuttings for Wente's own use and provided millions of cuttings to other California winegrowers. Today, about 80% of all California Chardonnay is either a Wente clone or a derivative clone or selection.
Today, Riva Ranch consists of about 1,000 acres of Chardonnay (6 clones), Gewürztraminer, Pinot Blanc, Pinot Gris, Pinot Noir (8 clones), Riesling and Viognier. Some of the original Chardonnay vines remain, as do some planted in 1973. Viticulture has evolved such that the original California sprawl with 8' x 12' spacing is gone replaced with 6' x 6' and 6' x 8' spacing with vertical-shoot positioning and drip irrigation.
Wente Vineyards first vineyard-designated Riva Ranch Chardonnay came from the 1984 vintage and the wine has been produced every year since.
A number of tasting options are available at the winery which also has a fine restaurant, a golf course, and plays host to concerts, weddings and other events. The wines are sold in all 50 U.S. states and in more than 70 countries worldwide. In 2011, Wente Family Estates was awarded American Winery of the Year by Wine Enthusiast. In 2012, The Wente family celebrated the 100th year anniversary of bringing Chardonnay to California.
Karl Wente has a unique creative approach to wine through music expressed by his "Discover the Wine, Discover the Music" campaign. An annual concert music series at the winery has featured many name entertainers.