Dierberg Vineyards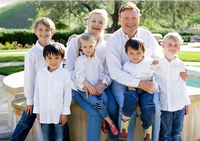 Jim and Mary Dierberg have owned a Missouri winery since 1974. The Dierbergs farm two cool climate estate vineyards: the 160-acre Dierberg Estate Vineyard just outside the town of Santa Maria with about two-thirds of the vineyard planted to Pinot Noir, and the newer 70-acre Drum Canyon Vineyard in the Santa Rita Hills planted to Pinot Noir. Jim and Mary Dierberg established the 230-acre Star Lane Ranch in 1996, a warmer vineyard site at the far eastern end of the Santa Ynez Valley planted to warm-climate varieties. A new winery has been carved into the sandstone of a 1,500-foot-high ridge above Star Lane Vineyard.
Nick de Luca was the winemaker for both Star Lane and Dierberg Vineyards since 1994. His background includes winemaking tours at Williams Selyem, Fisher, and Byington. In 2005, he was replaced by Andy Alba, who had been part of the winemaking team at Dierberg Vineyard from the first vintage in 2001. Tyler Thomas, formerly the winemaker at Donelan Family Wines in Sonoma Country, became the winemaker for Dierberg Vineyards and Star Lane Vineyards in 2013.
Rodolfo Bravo is the vineyard manager for the vineyards. The Dierberg Estate Vineyard is planted in soil with a higher loam content tending to produce Pinot Noirs that are more savory in flavor and powerful in structure.
Grapes are sold to several Pinot Noir producers including Arcadian, Tyler, and Flying Goat. Pinot Noir is produced under the Dierberg and Three Saints labels.
Reviewed Wines

2011 Dierberg Estate Grown Santa Maria Valley Chardonnay

13.5% alc. pH 3.15, $32. The Dierberg Vineyard is situated on a sandy loam mesa above the South Bank of the Santa Maria River in the near-extreme Western part of the Santa Maria Valley AVA. This cool site combined with the sandy, marine-based soils, creates Chardonnay with high acidity. Brix at harvest was 24.5º. No skin contact. Primary fermentation was carried out in 400 liter barrels of which 25% were new. Less than 10% of the wine went through malolactic fermentation. The wine was age 10 months, racked from its lees, blended, lightly fined, unfiltered and bottled after harvest. · Light golden yellow color and clear in the glass. The nose is appealing with scents of apple, lemon, brown butter, nuts and straw bale. Smooth on the palate with very agreeable crisp flavors of lemon tart, green apple, and lime zest. There is a definite oak imprint which adds to the complexity. Score: 89. Reviewed October 27, 2013 ARTICLE&nbsp»

2010 Dierberg Estate Grown Santa Maria Valley Pinot Noir

14.0% alc., $42. · Moderately dark reddishpurple color in the glass. A very earthy wine featuring aromas and flavors of blackberries, pine and oak. Very soft in the mouth with gentle tannins. Good. Reviewed April 13, 2013 ARTICLE&nbsp»

2010 Dierberg Drum Canyon Vineyard Estate Grown Sta. Rita Hills Pinot Noir

13.2% alc., pH 3.45, $44. Located in the eastern edge of the Sta. Rita Hills AVA. Planted in 2005 to a mix of heritage clones and low vigor rootstocks. Aged 16 months in used French oak barrels. Lightly fined, unfiltered. · Deep, dark purple color in the glass. Brooding aromas of blackberries and boysenberries with hints of briar, forest floor and espressolaced oak. Earthy, rugged and full-bodied, with a dense core of blackberry, cassis and blueberry fruits. A brute of a wine, yet retains a comfortable mouth feel. A little more expressive and gentle the following day from a previously opened and re-corked bottle. Score: 88. Reviewed July 21, 2013 ARTICLE&nbsp»

2010 Dierberg Estate Grown Santa Maria Valley Pinot Noir

14.0% alc., pH 3.52, $44. Dierberg Vineyard is planted with 11 different Pinot Noir clones. Brix at harvest was 25º. Aged in 33% new French oak barrels for 18 months and bottled unfined and unfiltered. · Moderately dark reddish-purple color in the glass. Aromas and flavors of black cherry, black raspberry, black currant, spice, tea leaf and oak-driven accents of tobacco, toast and herbs. The tannins are well managed, the mouth feel is smooth and comforting, and the finish is clean and uplifting. A slight green pepper background note was evident in this wine. Score: 87. Reviewed October 27, 2013 ARTICLE&nbsp»

2009 Three Saints Santa Maria Valley Pinot Noir

14.1% alc., pH 3.51, $24. Sourced from estate vineyards in the Santa Maria Valley (Dierberg) and Sta. Rita Hills (Drum Canyon). 100% de-stemmed. Aged 6 months in 100% 1-year-old French oak barrels. Lightly fined, unfiltered. · Moderately light reddish-purple color in the glass. The nose offers an array of aromas including blackberry jam, black plum reduction sauce, soy, stem and herbs. Relatively light core of dark berry and Hoison sauce flavors with a hint of spice. The tannins are supple and well integrated and the acidity gives the wine some refreshing vigor. An easy drinker that is nicely balanced. Good. Reviewed January 19, 2013 ARTICLE&nbsp»

2009 Dierberg Estate Grown Santa Maria Valley Pinot Noir

14.5% alc., pH 3.81, $42 (often priced by retailers at $35). Dierberg Vineyard is situated on top a sandy loam mesa above the southern bank of the Santa Maria River, in the far western portion of the Santa Maria AVA. Its proximity to the ocean makes it one of the coolest vineyards in the AVA. Planted in 1997, the vineyard is planted to 11 different clones include 60% Dijon and 40% heritage types. 1 month on skins, aged 18 months in 33% new French oak barrels. Unfined and unfiltered. · Moderately dark reddish-purple hue in the glass. Penetrating aromas of black plum, blackberry, black currant and forest floor on the nose with a hint of oak. Impressive flavor attack on entry carrying through to a powerful fruitdriven finish. There are charming flavors of blackberries, Hoison sauce, anise and spice with well-managed oak in the background. Very soft on the palate with good supporting acidity. Much better later in the day from a previously opened and re-corked bottle. Very good. Reviewed April 13, 2013 ARTICLE&nbsp»

2009 Dierberg Sta. Rita Hills Pinot Noir

14.5% alc., pH 3.65, $44. Sourced from Drum Canyon Vineyard planted in 2005. Low vigor rootstocks and a mix of heritage clones. Primarily native yeast fermentation. Aged 16 months in used French oak barrels. Lightly fining for clarity, unfiltered. · Moderately dark reddish-purple color in the glass. Aromas of black fruits, BBQ grill and toast. Vigorous with flavor and character offering a core of well-spiced and very ripe black plum and blackberry fruit wrapped in muscular tannins. Soft and plush on the mid palate and on the very dry finish. A full-bodied, fruit-driven wine that is a touch jammy in character. Good. Reviewed January 19, 2013 ARTICLE&nbsp»

2009 Dierberg "Steven" Estate Grown Santa Maria Valley Pinot Noir

14.5% alc., pH 3.62, $65. Dierberg Vineyard is located on top a sandy loam mesa above the South Bank of the Santa Maria River. "Steven," named after the Dierberg's first grandson, is sourced from areas of loamy clay near the western edge of the vineyard ("sweet spot") that produce wines with more power and structure. Brix at harvest 25.9º. De-stemmed but not crushed. Long maceration of 21 days with pump over regimen reduced one short mixing per day. Aged 17 months in 100% new Francois Frères oak puncheons. Clarity fined and unfiltered. · Moderately dark purple color in the glass. The nose is reluctant to reveal itself, slowly offering aromas of black cherries and black berries with forest floor notes and some smoky oak. Soft, structured and full-bodied on the palate with oak-kissed black cherry, blackberry, dark chocolate, and earthy, grilled mushroom flavors. The tannins are firm and dry. The wine is consistent with the Dierberg style from this vineyard, but ramped up a bit in concentration. At present the fruit is buried in the oak topcoat, but this should largely resolve over time in the bottle. About the same the following day from a previously opened and re-corked bottle. A terroir-driven wine that is well crafted in its style. Very good. Reviewed May 5, 2013 ARTICLE&nbsp»

2007 Dierberg Estate Grown Santa Maria Valley Pinot Noir

14.1% alc., 2,700 cases, $42. Released January 2011. The Dierberg Vineyard is located at the southern end of the Santa Maria Valley AVA just 14 miles inland from the Pacific Ocean. · Dark purple in color in the glass. Shy fruit aromas with prominent smoky oak. A husky, full-bodied wine with generous earth-kissed black fruits underscored with flavors of tar, earth and anise holding on to the finish. Muscular with thick, rugged tannins. Should benefit from more time in the bottle, but will always be a bruiser. Good. Reviewed May 15, 2011 ARTICLE&nbsp»

2006 Dierberg Santa Maria Valley Pinot Noir

14.9% alc.. · Deeply colored. A rich and full-bodied Pinot featuring generous dark berry fruits that have a plush feel on the palate. The nose is reluctant with faint dark fruits and subtle herbal oak. The core of fruit is downright delicious and the soft tannins make for easy drinking. Good. Reviewed September 23, 2008

2006 Dierberg Vineyard Santa Maria Valley Pinot Noir

14.9% alc., $42. The Dierberg Vineyard is located 14 miles from the Pacific coast at the southern end of the Santa Maria Valley. Dierberg is a family owned winery founded in 2001 producing hand-crafted wines from estate vineyards in the Santa Maria Valley and Santa Rita Hills. Vineyard yields were down 35% in this vintage. · A stunning nose composed of aromas of perfectly ripe cherries and berries with subtle hints of baking spice and smoke-infused oak. A really impressive mouth full of delicious dark sappy fruit underlain with smoky oak, earthiness and citrus. Seamless with perfect integration of alcohol and harmonious t n' a portending a long future. The wine is more elegantly styled than usual from this vineyard. The best I have ever tasted from this producer and a memorable wine. Reviewed July 9, 2009 ARTICLE&nbsp»