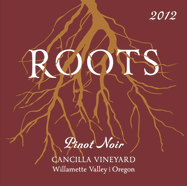 Roots is a family affair owned by Christian (Chris) and Hilary Berg. Hailing from Racine, Wisconsin and raised in Idaho, Pennsylvania and Illinois, Chris, who has a degree in English from University of Kansas, became interested in wine when his parents bought a manufacturing company in Tualatin, Oregon and moved west from Illinois. The Berg family acquired a 20-acre property near Yamhill in the Yamhill-Carlton District located in the same hillside area as Shea Vineyard. In 1999, they planted a 7-acre estate vineyard primarily to Pinot Noir with a small amount of Pinot Gris. Pinot Noir clones 113, 114, 115 and 777 were established on Willakenzie soil at about 600 feet elevation.
Chris gained experience in winemaking at Archery Summit Winery. In 2001, Chris and Hilary moved to the Yamhill property and took over management of the property when their parents retired to Wickenburg, Arizona. They launched their winery, Roots, using a term derived from the French word racine which means "roots."
2002 was the first vintage produced a whopping 72 cases of Pinot Noir under the Roots label. In 2003 a reserve bottling, Racine, was introduced and in 2004, a third label, Klee, was added, which pays homage to Bauhaus artist-in-residence Paul Klee. By 2006, the estate vineyard was in full production and grapes were bought (Cherry Grove Vineyard, Apolloni Vineyard, Leroy Vineyard and 49 Rows Vineyard) to produce a total of 2,000 cases under the three labels. Chris also sources grapes for non-Pinot Noir wines from the Walla Walla and Columbia Valley regions of Washington. Production in 2012 reached 4,000 cases.
Chris Berg's idea is to make affordable wines and he has accomplished that with his five 2007 Pinot Noirs priced at $25 and the 2006 Racine at $50 (but available as low as $35). Beyond the prices though, Chris's wines are impressive and deliver plenty of pleasure. The wines are produced in small quantities and often sell out quickly through the winery mailing list and some retail distribution.
A tasting room opened in March 2015 at 19320 NE Woodland Loop in Yamhill. Hours are Thursday-Sunday 12:00 to 4:00.