Derby Wine Estates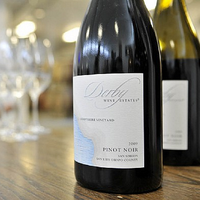 A Paso Robles-based producer of Pinot Noir, Rhone varietal and Bordeaux varietal wines. Derby has 400 acres of vineyards and initially operated out of a leased facility in Paso Robles on Adelaide Road. In 2011, Derby acquired the abandoned Farmer's Alliance Building, a Paso Robles landmark. The building dates to 1922 and was used initially by the Almond Growers Association and later by the Farmers Alliance to process grain. Vacant since 2005, the building was restored and turned it into a wine production facility, tasting room and event center by Ray Derby, owner of Derby Wine Estates. Derby moved into the facility in the spring of 2013.
There are 3 estate vineyards: The Derbyshire Vineyard is located off of Highway 1 between Cambria and San Simeon, 1 mile inland from the Pacific Ocean. 63 acres are planted to Pinot Noir and Pinot Gris and supplies the grapes for the winery's Pinot Noir bottling. Derby Vineyard and Laura's Vineyard are located more inland and are planted to warm weather white and red varieties.
The winemaker is Tiffinee Vierra who joined the winery in 2005. Previously she was the assistant winemaker at Four Vines Winery. The vineyard manager is Steve Vierra.
Derby Wine Estates wines are sold through a mailing list and through the winery's online store. Production is about 2,500 cases but the winery has space to grow to 10,000 cases annually.
Articles About Derby Wine Estates
Reviewed Wines

2008 Derby Wine Estates Derbyshire Vineyard San Simeon San Luis Obispo County Pinot Noir

14.1% alc., pH 3.50, 246 cases, $36. The vineyard, planted in 1998, borders the Hearst Ranch and is located one mile inland from the Pacific Ocean. Clones 115, 667 and 777. Aged 20 months in 44% new French oak barrels. Unfined and unfiltered. · Moderately deep reddish-purple color in the glass. Powerful and penetrating aromas of ripe, fresh black raspberries and black cherries. Delicious essence of sweet Pinot fruits with the slightest hint of pepper and citrus. Very silky and harmonious with bright acidity that will serve it well at the dinner table. Still singing beautifully the next day from a previously opened and re-corked bottle. Impressive effort from a unique coastal California site. Reviewed January 27, 2011 ARTICLE&nbsp»

2007 Derby Wine Estates Derbyshire Vineyard San Simeon San Luis Obispo County Reserve Pinot Noir

15.3% alc., pH 3.65, 249 cases, $42. Clones 115, 667, 777. Aged 34 months in 80% new and 20% neutral French oak barrels. Unfined and unfiltered. · Deeply colored. The fruit-filled nose offers aromas of plums, black currants, and blackberry jam with toasty and smoky oak in the background. A blocky wine with plenty of sweet dark fruit but too much oak-derived notes of mocha, brown sugar, and toasted brioche. As much as I liked the 2008 regular bottling from this producer, this full-throttle wine displays many traits that I disdain in Pinot Noir: over ripeness, high alcohol, generous extraction, and too much oak. Decent. Reviewed January 27, 2011 ARTICLE&nbsp»

2006 Derby Wine Estates Derbyshire Vineyard San Simeon Central Coast Pinot Noir

14.8% alc., pH 3.75, 235 cases, $42. Inaugural Pinot Noir from this newer producer. The Derbyshire Vineyard is just 1.25 miles inland from the Pacific Ocean bordering the Hearst Ranch. 62 acres were planted in 2002 to Pinot Noir clones 115, 667 and 777 and Pinot Gris. Grapes are also sold to Tantara, Wind Gap Wines and Wild Horse. 50% whole cluster. Aged 18-20 months in 50% new French oak. Unfined and unfiltered. The winemaker is Tiffinee Vierra. · Deep reddish-purple color. Alluring scents of dark cherries, Moroccan spice and sage. Discreetly concentrated core of cherry and red plum fruit with overtones of herbs and vanilla and a tangy finish that lingers with a grapefruit peel note. The tannins are supple permitting easy drink-ability. Sold on the winery's website at www.derbywineestates.com. Reviewed September 19, 2009 ARTICLE&nbsp»