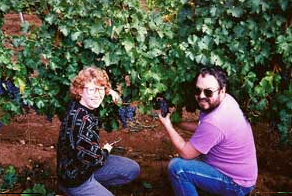 This winery is located in the heart of the Dundee Hills at the crest of Juliard Vineyard. Juliard Vineyard has been supplying Pinot Noir and Riesling grapes to local winemakers (Amity, Arterberry Maresh, Ayoub, Bonny Doon, Daedalus, Erath, Tempest and Winderlea) for over 20 years. In 2007, the barn on the property was expanded to include a winery and tasting room and the Crumbled Rock label was launched. Qwner Gerard Koschal became the winemaker. The owners live onsite and oversee all aspects of vineyard management and winemaking.
Juliard Vineyard was originally planted to Gewürztraminer, Chardonnay and Riesling. When the owners bought the vineyard in 1987, they cleared the orchard on the property and planted Pinot Noir. Eventually all but the Riesling was converted to Pinot Noir. Clones are Pommard, "828," 113, 114 and 115.
A tasting room is open on weekends from mid-April through Thanksgiving weekend or by appointment.