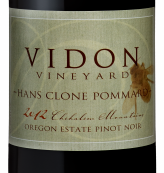 A peitite vineyard and winery operation owned and operated by Don & Vicki Hagge for more than 15 years. Situated in the Chehalem Mountains at an elevation between 400 and 500 feet facing south towards the Red Hills of Dundee, Vidon (VEE-DOHN) was planted in vines after the land was bought in 1999. The wines are produced by the owners and sell it out of the winery through the tasting room and a wine club.
The varietal lineup includes 3-clone and single clone Pommard, 777 and 115 Pinot Noirs, Tempranillo, Cabernet Franc, Chardonnay, Pinot Gris, Pinot Blanc and Viognier.
The tasting room is open Friday through Monday from 11:00 to 4:00 or by appointment at 17425 NE Hillside Drive in Newberg.