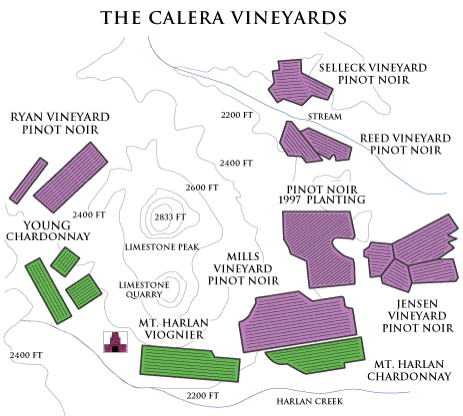 Proprietor Josh Jensen was exposed to wines while growing up in the small town of Orinda, California, by Dr. George Selleck who was a wine collector and friend of Professor Amerine at UC Davis. Jensen began sniffing and tasting wines when he was 13 years old and by the time he was 21, he had tasted all the great Bordeaux and Burgundy wines.
While attending college on the East Coast, he became even more interested in wine. After living in Europe for five years after college, and trying to find a career path, he decided to pursue the wine business. He went to Burgundy and knocked on the door of Domaine de la Romanee-Conti where he picked grapes for 10 days in 1970. The following year he met Jacques Seyesses (Domaine Dujac) and picked grapes there in 1971. He returned to California, determined to find what his Burgundian mentors had told him was the key ingredient, which was limestone. All the great vineyards of the Côte d'Or in Burgundy are in soils rich in limestone.
Upon returning to California, he went to the State Bureau of Mines office and looked at maps for limestone. After two years, his search led him to San Benito County. While searching, he met Dick Graff at Chalone. Their vineyards were planted on limestone-derived soils called calcareous soils. After tasting a 1971 Pinot Noir from barrel at Chalone, he realized it could be done here.
In the late 1800s, laborers working in the Gavilan Range built a stone kiln on Mt. Harlan, using it to bake limestone dug out of the slopes and hauled down the mountain in horse-drawn carts. Around 1910, the kiln was abandoned when the internal combustion engine made remote wood-fired kilns obsolete. The kiln now sits in the center of the Calera Estate and is depicted on the label.
With its 2005 vintage wines, Calera Wine Company is celebrating its 30th vintage. In 1974, when Josh Jensen (affectionately called "Generalissimo" and "Mr. Pinot") first planted his vines on a remote property in the Gavilan Mountains 18 miles north of Chalone, he was among a select few pioneers at the time who were attempting to farm Pinot Noir in California. In 1974, only 500 Pinot Noir vines were planted and hand-watered, but in the following year, the first vineyard blocks were established. Josh Jensen's remarkable story was first told in detail in 1993 in the first edition of the book, The Heartbreak Grape, A Journey in Search of the Perfect Pinot Noir, by Marq de Villiers. A completely revised and updated version was published in 2006 (McArthur & Company, paperback, $10.99). Jensen's saga is an inspiration for anyone hoping to follow a passion for Pinot Noir and only now, after thirty-two years, has his heartbreaking efforts found vindication. Pinot Noirs from Calera can hold their own to the best from Burgundy.
In 1975, Jensen cleared enough land to plant the initial three Pinot Noir vineyards, located approximately a 50 minute drive from the winery site. The vineyards were Jensen (named after his father, Stephen), Selleck (named after Dr. George Selleck who first introduced him to wine), and Reed (named after his initial business partner). Mills (named after John Everett Mills who built the infrastructure on the property on Cienaga Road for a mining operation - these retaining walls were to become part of Calera's gravity-flow winery), and the Chardonnay and Viognier plantings followed in 1984. The Jensen Vineyard is nearly 14 acres, Reed is 4.4 acres, Selleck is 4.8 acres, and Mills is 14.4 acres.
The initial vineyard plantings were on St. George rootstock using 6' x 10' spacing, with trellis wines, drip irrigation and cane-pruning, all viticultural techniques that were relatively new for the time. The most recent Pinot Noir planting is the Ryan Vineyard (named for Jim Ryan, the vineyard manager since Calera began) which is 13.1 acres and was planted in 1998 and 2001.
The original four vineyards were planted with a special selection that Jensen does not name sourced from the nearby Chalone Vineyard. Chalone had 18 vines that years earlier had come from buds brought in from a top vineyard in Burgundy and Jensen wanted some of this "real McCoy" Pinot Noir stock. This homogeneity, along with consistent vineyard management (Jim Ryan has been in charge of the now-organic vineyards since 1979), and winemaking, make the Calera block-designated Pinot Noirs an interesting example of terroir expression. The Calera wines typically have a distinct mineral backbone and age easily a decade or two.
By 2006, Jensen had 83.6 acres planted on his property which consisted of 648 acres (the first two parcels purchased in 1974 and 1977) and 440 adjacent acres. The winery, the world's first and only completely gravity-flow winery, was built on seven different levels into a hillside. The first vintage of estate Pinot Noir was in 1978, all of 700 cases in half-bottles, and was the initial Calera wine made at the winery. Calera is the only winery in the Mt. Harlan AVA (he can also use the Central Coast AVA and San Benito AVA designations as well). Curiously though, the vineyards are in the Mr. Harlan AVA, but the winery technically is not, so he cannot use "estate bottled" on the label.
Calera's vineyards are located at 2,200 to 2,500 feet above sea level and are cooler than almost all vineyard locations in the North Coast (Josh can prove it with University California Berkeley's 30-year temperature averages for all California towns and cities).
The Calera Pinot Noirs are probably the closest to the Burgundian idiom of all Pinot Noirs in California. The wines are shy and reticent upon release, with the best drinking window between 5 and 20 years after the vintage. Jensen abhors what he calls "Smasher-Blasters," California Pinot Noir fruit bombs that "are mostly one-dimensional, simple but potent beverages that will merely lose their fruit, their main if not their only appeal, with the passing years and just turn into … . expensive mud." His vision for the perfect Pinot Noir is well reflected in the eloquent style of his wines and is one "that is perfectly balanced on the cusp of richness and complexity, of fruitiness and subtlety, and is neither one nor the other."
In 2007, Mike Waller joined Calera as winemaker. He is a graduate of University of California at Davis and has held an assistant winemaking position at Chalone Vineyard. Fermentations are native, significant whole clusters are used, and about 30 percent new oak on all wines. Each day's picking becomes a separate fermentation lot and barrel-aging lo, which are then blended at bottling when certain parts are selected. Press and free run wines are combined. 30% of French oak barrels are new for each of the six single vineyard Mt. Harlan Pinot Noirs and the Mt. Harlan Chardonnay. The wines are not racked for fear of losing color and mid palate flavors. More than 90% of the single vineyard Pinot Noirs are in their individual barrels for 15 to 16 months. Mild fining and no filtration
Calera wines are sold on the website and through retail distribution. Current annual production is 31,000+ cases. The portfolio includes seven different bottlings of Pinot Noir, Chardonnay, Aligoté, and Viognier (Jensen petitioned the U.S.D.A. to import Viognier cuttings in 1973 when it did not exist in this country). 32% of production is estate grown.